大丸
下の碑を背にして撮影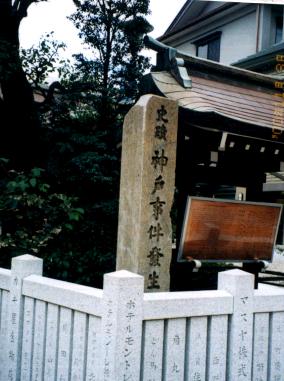 神戸事件発生の碑
(原文は縦書き)
明治維新 神戸事件概要
神戸開港早々の明治元年正月十一日尼崎へ出向を命ぜられた岡山備前藩の隊士の行列が
三宮神社前を通過するとき神戸沖に停泊中の外国軍艦の乗組員数名が行列を横切った。
隊士の滝善三郎正信は日本の風習から無礼を怒って相手を傷つけた。それがもとで外国兵と
備前藩士の一行との間に砲火を交える騒ぎとなった。その結果神戸の街は外国兵によって一時
占領されてしまった。同年十五日東久世通 は勅令で神戸へ来て明治維新で天皇新政となった
ことを初めて外国に知らせ同時にこの事件について交渉をした。結局滝善三郎は責任を一身に負い
外国人代表ら立会いの面前で切腹して問題は解決した。
    三宮神社 湍津姫命(たきつひめみこと)
      春祭 本祭   5月12日 渡御式13日
      秋祭 宵宮祭 10月12日 本祭13日
 OUTLINE OF KOBE INCIDENT
 On 11th January 1868,Immediately after the opening of the port of Kobe to foreign trade,it so happened that
a procession of a vanguard of troops attached to the feudal lord of Bizen-Okayama was passing in front of
Sannomiya Shrine when several crew members of foreign warships lying at anchor off Kobe cut across the
procession.Exasperated at this disrespect of the Japanese manners and customs,Masanobu Zenzaburo Taki of
the vanguard wounded one of the foreign sailors,bringing about an exchange of fire between the warships and
the Japanese troops, As the result of which Kobe was temporarily occupied by the foreign forces.
 On 15th January,Michitomi Higashikuze Hurriedly came down to Kobe at the emperor's special command,and
entered into negotiations with the foreign authorities, informing them of the fact that as the result of the Meiji
Restoration,Japan had been restored to rule by the Emperor's personal administration. Eventually,Zenzaburo
Taki,assuming full Responsibility for the incident,committed "harakiri"or killed himself by slashing his aboomen
in the presence of foreign representatives.Thus the incident was ended.
SANNOMIYA SHRINE
 This shrine enshrines Takitsuhime-no-Mikoto,a goddess of water,who sees to the safe navigation and
commercial and industrial prosperity.